The Conrad George Reifel, Sr., &
Louisa Charlotte Sommer Koerner Family
of Franklin County, Indiana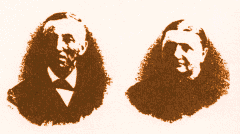 Conrad and Louisa Reifel

by Charles W. Niehaus, 1982


Conrad (Konrad) George Reifel, Sr., born February 22, 1840, died August 13, 1917
Louisa Charlotte Sommer Koerner, born September 2, 1845, died July 23, 1916



---


Conrad was born on February 22, 1840, the second of five children born to George Heinrich Reifel I and Anna Elisabeth Hengan. Born in Hördt, he came to America in 1855 at age 15 with his parents, brothers and sister. All of Conrad's education was gotten in Germany. Because of his age, we can imagine that Conrad was a big help to his family during the trip to America. He was probably well-built and healthy as was his father, and accordingly helped transport the family possessions in their long trip to the midwest.

Because his father was unable to take much money out of Germany at the time of their immigration in 1855, the family must have gone into some debt to pay for their ship passage and to later purchase their homestead. As Conrad grew up, he most probably had a close home-life as do most rural families. Judging from the fact that Conrad and his wife brought 10 children into the world (even though 2 died shortly after birth), we can imagine that Conrad's associations with family life were pleasant ones.

Since the Peppertown settlers of this era were the first ones to till the soil in any organized way, Conrad must have spent many a back-breaking hour clearing the land with his father. Conrad helped his Dad farm from 1855 (age 15) through 1864 when he married Louisa Koerner. At this time, Conrad most probably continued to work the same land with his father and shared the proceeds. The farm that Conrad worked most of his later years after his father's death most likely was the same 80-acre farm with its woods and hill-valleys scattered between the good farmland.

The 1860 Census tells us that Conrad owned no real estate at that time. His father, Georg, still owned it. At the time of the 1870 Census, Conrad was living at the same address as his aging father and mother. Most likely his father willed the land to be given to Conrad after Georg's death. Conrad's older brother, Johann Philipp Reifel, had already moved 30 miles away to the Connersville, Indiana, area in 1855. Since Theobald was 2 years younger, and Jakob decided to become a blacksmith, Conrad was the logical choice to take over the farming of the family homestead.

In the summer of 1981, I visited the original Reifel family homestead land in Peppertown, Indiana. An Appalachian family named Metcalf (husband, wife and 3 adult children in their 20's) now own the homestead farm and have since about 1930. They grow mainly tobacco on the land now.

While there, we also visited with Mr. Carl Stirn, a 94-year-old gentleman who owned the next farm over. He said he remembered Conrad fairly well from his youth. He said, "Conrad was a good farmer. He took care of everything he planted. He was a good neighbor as well."

The original house still stands, although exterior wood-siding has been added. It is a 2-bedroom house with walls 2 feet thick, and was equipped with a well and an outhouse.

At age 23, Conrad married Louisa Koerner (age 18) who was living with her aunt and uncle -- the Koerners -- who owned the corner general store in Peppertown.




Koerner General Store in Peppertown
(Click on photo for more information)



At some point in her childhood, Louisa was adopted by the Koerners, who became her step-parents. Louisa's natural mother's surname was Sommer (or Somer) and she lived in Baltimore, Maryland. Tradition has it that Louisa's mother may have been born in Germany, too. Louisa's step-parents were middle class. The 1860 Census tells us that they had a domestic, a sign of some affluence. Louisa also had 5 step-sisters.

Conrad continued to farm all of his adult life. He and Louisa had 10 children, and raised 8 children (3 girls and 5 boys) to adulthood. "Cunnie" (as he was called by friends) kept up a good apple orchard which, unfortunately, no longer exists. He also cultivated a good black and red grape vineyard on the homestead farm. Conrad's delicious crabapple cider was famous in the area because of his "secret formula." [Now it can be told: He painted the inside of each cider barrel with lime, giving it a distinctive good taste.]

When Conrad and Louisa moved to Brookville about 1914, they sold the farm. Conrad and Louisa lived in a home on 12th Street in town. Louisa made friends easily, as she was a warm and friendly person. It was in Brookville that she died on July 23, 1916, at age 71. She was buried in the beautiful Maple Grove Cemetery, and a large group of people came to pay their respects at her funeral.

After his wife's death, Conrad moved to live with his son, August J. Reifel (Superintendent of Schools in Brookville for many years, and author of the thick 1915 book, History of Franklin County, Indiana). There Conrad spent the last year of his life. He died of pneumonia on August 13, 1917, at age 77, longing "to be with Louisa" his beloved wife. In the township, Conrad and Louisa were remembered chiefly for having "brought some good children into the world."
---

REIFEL HOME
---